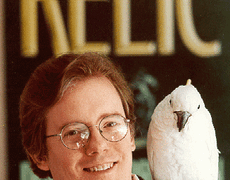 Lincoln "quoth the raven" Child and Chaucer, a Triton Cockatoo passionately fond of reducing antique furniture to sawdust with his beak. There is some disagreement over who owns who.
Photo by Chris Pedota
Lincoln Child was born in Westport, Connecticut, which he still calls his hometown (despite the fact that he left the place before he reached his first birthday and now only goes back for weekends).
Lincoln seemed to have acquired an interest in writing as early as second grade, when he wrote a short story entitled Bumble the Elephant (now believed by scholars to be lost). Along with two dozen short stories composed during his youth, he wrote a science-fiction novel in tenth grade called Second Son of Daedalus and a shamelessly Tolkienesque fantasy in twelfth grade titled The Darkness to the North (left unfinished at 400 manuscript pages). Both are exquisitely embarrassing to read today and are kept under lock and key by the author.
After a childhood that is of interest only to himself, Lincoln graduated from Carleton College (huh?) in Northfield, Minnesota, majoring in English. Discovering a fascination for words, and their habit of turning up in so many books, he made his way to New York in the summer of 1979, intent on finding a job in publishing. He was lucky enough to secure a position as editorial assistant at St. Martin's Press.
Over the next several years, he clawed his way up the editorial hierarchy, moving to assistant editor to associate editor before becoming a full editor in 1984. While at St. Martin's, he was associated with the work of many authors, including that of James Herriot and M. M. Kaye. He edited well over a hundred books--with titles as diverse as The Notation of Western Music and Hitler's Rocket Sites--but focused primarily on American and English popular fiction.
While at St. Martin's, Lincoln assembled several collections of ghost and horror stories, beginning with the hardcover collections Dark Company (1984) and Dark Banquet (1985). Later, when he founded the company's mass-market horror division, he edited three more collections of ghost stories, Tales of the Dark 1-3.
In 1987, Lincoln left trade publishing to work at MetLife. In a rather sudden transition, he went from editing manuscripts, speaking at sales conferences, and wining/dining agents to doing highly technical programming and systems analysis. Though the switch might seem bizarre, Lincoln was a propeller-head from a very early age, and his extensive programming experience dates back to high school, when he worked with DEC minis and the now-prehistoric IBM 1620, so antique it actually had an electric typewriter mounted into its front panel. Away from the world of publishing, Lincoln's own nascent interests in writing returned. While at MetLife, Relic was published, and within a few years Lincoln had left the company to write full time. He now lives in New Jersey (under protest--just kidding) with his wife and daughter.
A dilettante by natural inclination, Lincoln's interests include: pre-1950s literature and poetry; post-1950s popular fiction; playing the piano, various MIDI instruments, and the 5-string banjo; English and American history; motorcycles; architecture; classical music, early jazz, blues, and R&B; exotic parrots; esoteric programming languages; mountain hiking; bow ties; Italian suits; fedoras; archaeology; and computer MMORPGs.
Some highlights of Lincoln Child's life to date:
1957 - born in Westport, Connecticut
1963 - moved to Aberystwyth, Wales (try saying that quickly three times) for a stint in the U.K.
1970 - voted most likely to be beat up in shop class
1971 - discovered H. P. Lovecraft
1971 - was sent a Led Zeppelin album as a Christmas present by a well-meaning grandmother, who clearly had never listened closely to the lyrics of "Whole Lotta Love" or "The Lemon Song." (Gradual decline into sensuality and decadence dates from this period.)
1972 - tried reading War and Peace. Gave up after 400 pages.
1973 - tried reading Gravity's Rainbow. Gave up after 300 pages.
1974 - saw The Exorcist and was traumatized for approximately seven months
1976 - decided to become a medical journalist. Began taking pre-med courses.
1977 - dissected a cat. Gave up on idea of being a medical journalist.
1977 - began writing very romantic, and very bad, poetry. Was persuaded to stop after about a year.
1978 - was glimpsed in London, a copy of Wordsworth's Lyrical Ballads under his arm, asking directions to Westminster Bridge.
1979 - received Distinction in English Literature from Carleton College. Started working for a living.
1982 - tried reading To the Lighthouse. (You can fill in the rest.)
1984 - discovered Jack Daniel's
1988 - first sowed the seeds of Relic with Douglas Preston
1995 - Relic published by Tor Books
1996 - film version of Relic went into production. Stopped working for a living.
1999 - began Bleak House for the third time. (And finished it this go-round. Perhaps there's hope.)
2003 - published his first solo novel, Utopia.
2011 – became a #1 New York Times bestseller with the Pendergast novel, Cold Vengeance (finally!)
And what web site would be complete without a (yawn) Favorites List?
Favorite composer: Beethoven. No, make that Brahms. No, Schubert. No...
Favorite wine: No question there. Chateau d'Yquem.
Favorite motorcycle: BMW R1200C
Favorite poet: John Keats. (Take a minute to read Ode to Psyche. It'll do ya good.)
Favorite movie: Tough call. Either It Happened One Night, The Philadelphia Story, or Casablanca.
Last heard saying: "Gee, why don't you write that chapter, Doug?"