Dear Friends and Readers,
It is with tremendous sorrow that I report the death of Mario Spezi, my writing partner for The Monster of Florence, who was a dear friend and colleague. Mario passed away on September 9, 2016, after a long illness.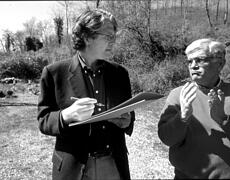 Mario and I at the site of the double-homicide in Vicchio, Italy, where the Monster murdered a young couple, Pia Rotini and Claudio Stefanacci, who were making love in a parked car. Mario is explaining to me the forensic reconstruction of the crime.
Photograph by Christine Preston, 2001.
Mario Spezi was a courageous and tenacious journalist with the very sharpest of pens. He was also a noted illustrator and caricaturist. For many years, Mario covered the crime beat for La Nazione, the Tuscan newspaper, where he wrote about the serial killings of il Mostro di Firenze, the Monster of Florence. His incisive journalistic investigations into the Monster's crimes, which exposed a miasma of incompetence among police and prosecutors, resulted in his being targeted by those he had criticized. The police searched his house, confiscated his computer, papers, and files, wiretapped his computer, car, and telephone, and eventually arrested and charged him with being complicit in the Monster's killings himself.
Mario spent 23 horrific days in prison before being released and absolved of all charges, the courts ruling that he had been jailed illegally and without supporting evidence. (The complete story is told in our book, The Monster of Florence.)
What the book doesn't say is that long after Mario's arrest and release, the prosecutor and the chief inspector of police in the Monster investigation continued to file criminal charges against him. The Italian courts repeatedly dismissed those charges, only to have the prosecutor and police file new and slightly revised charges. This judicial vendetta went on for almost a decade and caused Mario and his family serious economic distress; his doctors say this unrelenting harassment contributed greatly to his ill-health and I have no doubt hastened his death. Not a single one of those charges ever led to a conviction.
As most of you know, Mario and I wrote The Monster of Florence together. It is currently being made into a motion picture. Mario was a huge devotee of American film and I deeply regret he will not be able to attend the film's premiere — or the Oscars ceremony, for that matter, which we often joked about attending. Mario once gave me a plastic Oscar statue in anticipation of the film perhaps someday winning the real thing.
Mario had a wickedly dry sense of humor. You did not want to be on the receiving end of his wit, as many Florentine officials and politicians were, either by pen or by caricature. While not a Florentine himself, Mario loved the city and once described Florence as "a grand old woman, poor, who earns a living by selling photographs of when she was young."
Mario Spezi is survived by his wife Myriam and daughter Eleonora. My deepest and most heartfelt condolences go out to them.
I've included here a few excerpts from the many obituaries that appeared about Mario in the Italian press:
From Libero:
Farewell to Mario Spezi, journalist and writer, who was famous for his investigations and books on the Monster of Florence. He died last night in Florence at the age of 71, after a long illness. After having debuted as a journalist collaborating with "Paese Sera" and "Nazione Sera," in 1975 he joined the staff of the Florentine daily, La Nazione. As a reporter on the crime beat, he covered the Monster of Florence serial killings, the murder of Meredith Kercher in Perugia, and the "Circe della Versilia" case.
In recent years he worked for the Florentine edition of Corriere della Sera. He was born in Sant'Anglelo in Vado (Pesaro) on July 30, 1945. Mario Spezi devoted the major part of his career covering the case of the serial killer known as the Monster of Florence, so much so that his colleagues fondly called him the paper's "Monstrologer." He wrote hundreds of articles and several books about the case. He was also the screenwriter for a film, "The Monster of Florence," directed by Cesare Ferrario and released in 1986.
He always supported the hypothesis that the Monster was a lone serial killer, rejecting theories that the murders were committed by an esoteric satanic sect, and he maintained that the real killer had never been found.
From the Tuscan Press Association:
Mario was a journalist of the very highest caliber, who covered for decades one of the most disturbing and baffling cases that gripped Florence, Tuscany, and all of Italy: the killings of the Monster of Florence.
Paradoxically, precisely because of his professional tenacity, Mario Spezi was subjected to heavy judicial retaliation. But his professional diligence and his drive to uncover the truth won him unanimous acclaim as a great and scrupulous reporter.
The Tuscan Press Association is united, in this moment of sorrow, with his wife Miriam and his daughter Eleonora, as well as in the name of all journalists in Tuscany.
From Mag-Series:
Spezi was the rarest example in Italian history since the Second World War of an arrest for a "crime of words," for which it is even rarer to suffer incarceration… even if in his case they concocted the odd crime of "misdirection" and alleged his participation in a presumed murder of 1985, as part of the fantastical and imagined cult they called the "Order of the Red Rose."
From La Nazione:
Mario Spezi, internationally famous as the most tenacious journalist who sought to shed light on the case of the Monster of Florence, even to the point of being arrested, is dead at 71 years of age. Spezi, aside from being a famous journalist and writer, was also a highly regarded illustrator and caricaturist… His career in Florence, especially at La Nazione, covered crime and the judicial system, as well as cultural subjects.
From Mediaset:
With Mario Spezi we have lost a journalist of the old school, able to tell a story and analyze the facts by digging deeper in places where other journalists were afraid to look.