…in which the authors try to answer the questions that are most frequently put to them in emails, at book signings, radio and television interviews, supermarket checkout lines, and the like…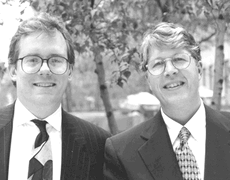 Lincoln Child (left) and Douglas Preston (right), caught on a caviar-hunting expedition in New York City. (Photo by Christine Preston)
Q: How did Douglas Preston and Lincoln Child meet?
A: In the dim days of prehistory, around 1985 or thereabouts, Lincoln Child, an editor at St. Martin's Press and a big fan of the American Museum of Natural History, decided to commission a book about the museum's fascinating history for his publishing house. Doing some research in the Museum's magazine, he found that a Museum employee, Douglas Preston, wrote many of the most interesting articles on the Museum itself. So Child contacted Preston, took him to lunch at New York's Russian Tea Room, and pitched the idea of a book. Thus was born Dinosaurs in the Attic, Preston's first non-fiction book. During the book's (at times difficult) birth, the two became friends.
Q: How did Relic come to pass?
A: After Dinosaurs in the Attic was published, Preston approached Child with a proposal for a murder mystery, set in a natural history museum. Child told him that murder mysteries were very numerous, and hard to make truly successful. But what about a techno-thriller, set in a museum? And what if they were to write it together? And they did. The book's incubation took several years--Child left St. Martin's to work (temporarily) as a systems analyst, and Preston moved out to Santa Fe to write full time--but at last, in the spring of 1995, Relic was published by Tor Books. Not all that long after, it became a Paramount feature film that opened with #1 box office sales. And that, as they say, was that.
Q: How do two people write a book together?
A: That's an organic process that's been changing since we first started work together. These days we tend to work up a detailed outline together, passing it back and forth via the cloud until we're happy with it. Then we assign sequences, or related sets of chapters, to each author. The other author later revises these chapters. That way, we tend to get four hands on just about every word.
Q: Do the two of you ever have differences of opinion?
A: Of course we do! Sometimes, we argue like an old married couple. But this is a very good thing, actually. The bottom line is, we trust and respect each other's opinion. The finished books are much better as a result of our always questioning each other's work, trying to find the best possible way in which to write the story, and so on. And with two heads at work, with twice as many ideas to choose from, our books should be twice as good. Right?
Q: Are you ever going to write a sequel to The Ice Limit?
A: Yes, as a matter of fact we are already beginning work on a novel entitled BEYOND THE ICE LIMIT. It will be, believe it or not, a Gideon Crew novel! Expect it in 2015.
Q: Near the end of the paperback version of Cabinet of Curiosities, you refer to a certain pair of eyes. But nothing comes of it. It's not in the hardcover. Is this a mistake? And in Still Life With Crows, it seems that Wren is being watched by somebody. What's all this about?
A: It's no mistake. You can find out more in Brimstone and Dance of Death. If you really want to know everything, read the answer to the next question.
Q: What's the story with Constance Greene?
A: We don't mean to be coy, but Constance's history is somewhat obscure. You have to read all the books from Cabinet onward to get a picture of where she came from and why she is Pendergast's ward. The entire story is explained by Constance herself at the end of the novel Two Graves—but if you haven't read the Pendergast books leading up to that, we don't suggest it, since it would prove a major spoiler.
Q: I've written this really great novel. Would you please read it and give me your comments?
A: Sorry, but we're much too busy trying to write our own novels to give you the kind of meaningful, thoughtful feedback you're looking for. We recommend you join or form a writer's group of like-minded people.
Q: I have a great idea for a book. Would you like to hear it?
A: Thanks, but we both have so many ideas already that we'll never write them in our lifetimes. We would encourage you to take the idea and write your own book!
Q: There's too much profanity in your books.
A: Actually, we try hard to keep the really serious profanity to a minimum! But we do strive to reproduce in our books how some people actually talk. New York City cops, for example, can be gloriously profane.
Q: How come animals get hurt and even killed so often in your books? Are you animal-haters or something?
A: Quite the opposite. We love animals and have both had numerous pets. Funny we get asked this question rather frequently, but nobody seems to complain about the humans that get hurt... No human or animal is safe in our books.
Q: I want more Pendergast!
A: And you'll get him, we promise. We are hard at work on the next book in the series.
Q: I want to read all your books in which Pendergast appears. What order should I read them in?
A: Ideally, Relic, Reliquary, Cabinet of Curiosities, Still Life With Crows, Brimstone, Dance of Death, The Book of the Dead, The Wheel of Darkness, Cemetery Dance, Fever Dream, Cold Vengeance, Two Graves, and White Fire…
Q: What is the 'Diogenes Trilogy'?
A: Three novels that, together, form the story of Agent Pendergast's epic confrontation with his brother, Diogenes. These books, in order, are: Brimstone, Dance of Death and The Book of the Dead.
Q: And the 'Helen Trilogy'? What is that?
A: These three novels tell the story of the life and death of Pendergast's wife, Helen. These books, in order, are: Fever Dream, Cold Vengeance, and Two Graves.
Q: How come it took you three books to write the Diogenes story and the Helen story? Are you 'playing out' the Pendergast series with cliffhangers in an attempt to generate more sales?
A: Nothing could be further from the truth! Those stories were way too big for one book. We love presenting our readers with complex, multi-layered stories containing many intersecting plot threads. It's sometimes hard to do that in a single novel. We've never set out intending to write a trilogy, but sometimes Pendergast hijacks the story from us. We hope our readers will enjoy tales that are bigger, less linear and richer in characters and sub-plots than the usual thriller.
Q: What's the best Pendergast novel to start with?
A: You could always start at the beginning with Relic. Another great novel to start with is The Cabinet of Curiosities. Two others we might recommend, if you don't want to go all the way back to the beginning, would be Still Life with Crows and White Fire. They are all stand-alone novels that require no background.
Q: What about Gideon Crew? Why a new series?
A: We launched the Gideon Crew series of novels in hopes of creating a different kind of protagonist as well as a slightly different style of thriller. The Gideon Crew books are a little shorter, more linear, with more action and less Gothic accoutrements. We had a lot of fun creating Gideon Crew. He is very different from Pendergast: a young, lanky fellow with a troubled past, confused, brilliant, intuitive, frequent women problems and a tendency to drink more than is good for him. He is a trickster, a master at social engineering, and a (semi-retired) thief.
There are three novels in the Gideon series so far: Gideon's Sword, Gideon's Corpse, and The Lost Island (to be published in August 2014). The next one in the series will be Beyond The Ice Limit.
Q: What did you think of the movie version of Relic?
A: Let us just say that we are still hoping to see an excellent movie or TV series featuring the character of A.X.L. Pendergast, who has yet to grace the screen.
Q: You guys write thrillers on your own. What does this mean for the Preston-Child partnership?
A: Linc: Speaking for myself, I hope to go on writing joint books as long as I can put finger to keyboard. They're a great deal of fun. And we've built up a joint universe of characters, places, and events I wouldn't ever want to abandon.
Doug: I love writing the Pendergast books and working with Lincoln, who is a most excellent writing partner. I've learned a lot from him. It's also rewarding to write a solo novel. We like variety in our writing lives. We both have a mortal fear of falling into a rut, of churning out the same books. We want to continually surprise our readers with something different. To do that, we have to keep our writing lives full of variety.
Q: What are these books you've written, ATTIC and ICE SHIP? I've never heard of them before.
A: Those are examples of translations of our books RELIQUARY and THE ICE LIMIT into foreign languages. The titles may sound English, but the books are not!
Q: If I mail you a book, can you both sign it?
A: We've very sorry to have to decline all requests like this. Since we live in different parts of the country, it's difficult. We used to do it, but the boxes kept coming and it got out of hand.
Q: Where can I get a signed book? I can't get to one of your rare book signings.
A: There are online booksellers, such as VJ Books, which sell autographed copies of our books. Also, with every new book we now publish, we offer double-signed copies through the Poisoned Pen Bookstore in Scottsdale, Arizona, and the Mysterious Bookshop in New York City.