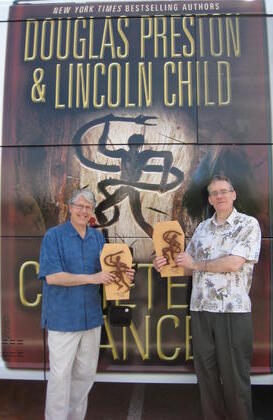 DAY 13: Two Independents

This was a day of both serious driving and serious signing. Sunday, May 24 found us bombing across the Carolinas in our juggernaut as the tour neared its conclusion.

Both of the day's signings were held in independent bookstores: Park Road Books in Charlotte, and Quail Ridge Books in Raleigh. This provided us a great chance to speak to the store staffs, and the level of excitement and preparedness we found gave us a renewed appreciation for the independents across the country (as if we needed it!)

Louise, the wife of our bus driver, Jerry, provided us with an unexpected treat: stuffed and carefully sewn reproductions of the figure on the cover of Cemetery Dance. We were astonished at how cleverly done they were, and at the time that must have been invested in fashioning them. Thanks so much, Louise! Take a look at the photo section to see them for yourself.